Fax to Email Service is Easy!
Fax to email is simple and easy to operate.
No need for any equipment (fax machine).
No need to install any hardware or software.
No need for extra phone line to receive faxes.
No hidden fees to have an email fax service.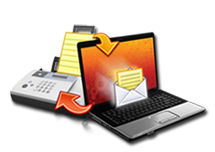 Internet Fax or Email Fax is Convenient, Secure and Inexpensive

Email Fax Is Convenient and Accessible Anywhere Anytime:
All faxes deliver directly to your email inbox, eliminating the need for conventional fax machine.
Our e-mail based fax service allows you to send, receive, and broadcast faxes securely.
Send and receive faxes from anywhere you can access the internet.
Send and receive faxes from your computer (PC or Mac). All faxes are received even when your computer is turned off, so you don't miss any important fax.
Send and receive faxes to any regular fax number.
Receive faxes from any regular fax number.
Send and receive faxes from your multiple email accounts.
Send and receive faxes via Blackberry, iPhone or any mobile device.
Perfect solution for mobile professionals, business travelers and people involved in fieldwork that don't have an access to a physical office with fax facilities.
You don't need a dedicated phone line for fax purpose now.
Access your faxes anywhere in the world if you have an internet connection.

Email Fax Is Secure and Reliable:
Incoming and outgoing faxes are delivered directly to your email programs (Microsoft Outlook Express, Outlook, Entourage, Eudora, Netscape and Thunderbird etc).
You can download and store your faxes on your computer.
All faxes can be filtered and blocked by our spam filter before they gets to your email inbox.
Sites secured by GeoTrust SSL certificates are providing up to 256 bit encryption thereby offering the highest level of encryption and security possible. This means you can rest assured that communications between your browser and this site's web servers are private and secure.

Email Fax Reduces Your Business Faxing Cost:
No more long distance charges.
No more an extra phone line for fax purpose.
No more busy phone line.
No more costly traditional fax machines.
No more wasted paper, toner costs or maintenance fees.